ChemTech India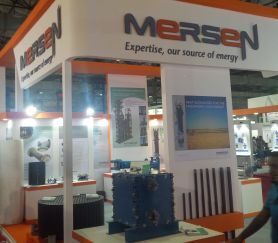 Chemtech is India's biggest Expo for chemical equipment manufacturers .
All the senior industry experts attended this event and Mersen is a regular for Chemtech.
This time we have showcased on our booth our core products such as graphite Polybloc and cubic heat exchangers, graphite tubes, Tantalum heat exchanger, Silicon carbide block, graphite Block (1050 mm) and our special PTFE liners, fittings and bellows.  
In 2015, our graphite 800 MM block and our graphite 6 meter seamless tubes attracted a lot of industry experts. No doubt that this year our 1050 mm graphite blocks will have the same success.