Services and maintenance
We do not just deliver equipment, we can also provide support for all products we deliver throughout their life cycle and offer a broad range of services:
Start-up services
Preventative maintenance
Corrective maintenance
Consulting and diagnostic services
START-UP SERVICES
Start-up is a critical phase, and its success depends on many different factors specific to each item of equipment and each process.
Our vast experience in graphite equipment means that we are able to give you the right advice on how to start up equipment successfully.
With complex systems, we can support you from the beginning of the project through to the start-up phase. 
Acid production systems need meticulous preparation in line with the safety standards. Our team of system specialists can also provide you with support throughout this stage.
PREVENTATIVE MAINTENANCE
Thanks to our know-how concerning our equipment and related materials, we can give you the best advice for your specific process.
We are able to suggest technical improvements to increase returns or extend the life of equipment.Our R&D service and design office are able to develop made-to-measure solutions addressing the specific issues you face.
We also deliver spare parts right around the world.
CORRECTIVE MAINTENANCE
We are keenly aware that halting production has a serious impact on our customers' business. That is why we have a team of installation experts at our 14 after-sales centers around the globe on stand-by to repair defective equipment on site.
Thanks to their highly extensive product knowledge, they are able to make the right diagnosis and repair on site or in our local workshops.
CONSULTING AND DIAGNOSTIC SERVICES
Standards are constantly changing, and technical improvements are being made all the time. And so it is crucial for you to have a partner with the product and process know-how to be able to suggest adjustments in line with the latest market requirements.
Our team of process experts offer audits of our system installations and can recommend enhancements to keep production running as smoothly and efficiently as possible.
Case study: wastewater treatment plant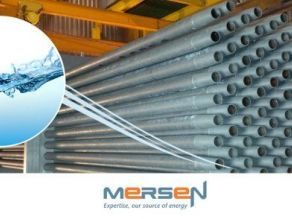 Mersen replaces two graphite heat exchangers used in the sewage sludge incineration process in a wastewater treatment plant.